8 of the Most Beautiful European Motorhome Destinations
20th April 2021
8 of the Most Beautiful
European Motorhome Destinations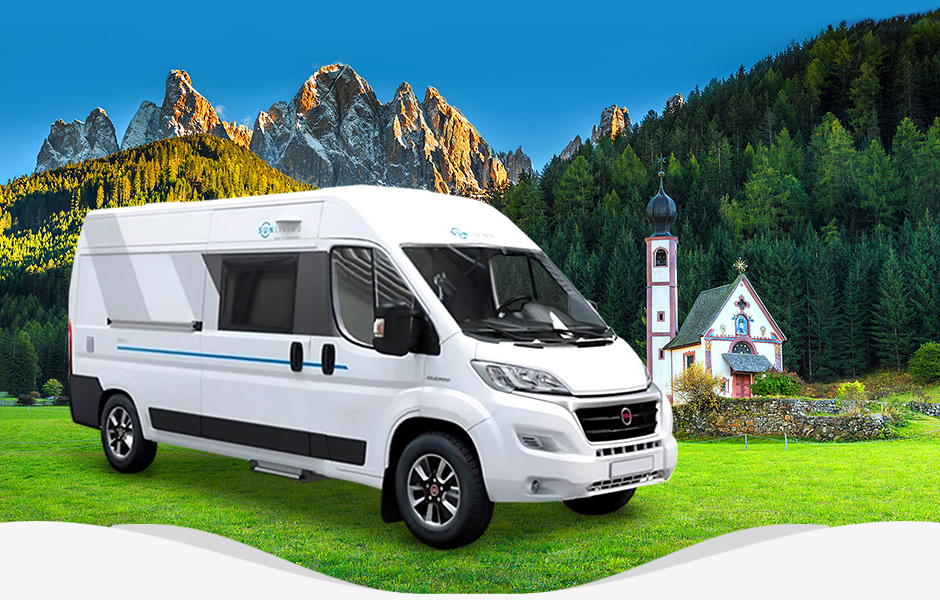 You already know some of the best places to visit in the UK in a motorhome, but have you ever considered taking your motorhome to the continent? Mainland Europe offers literally thousands of fantastic motorhome locations that would make for a truly splendid holiday.

The wonderful thing about mainland Europe is that it offers something for everyone. From sunny Mediterranean coasts to fantastic Alpine peaks and everything in between, you can't go wrong touring Europe in your motorhome. The open road is just waiting for you.

In this post, we will take a brief look at eight of the most beautiful European motorhome destinations.  We will also talk about some of the supplies needed for life on the road. We'll close with a brief mention of travelling during the coronavirus crisis, though we hope the crisis is a thing of the past by the time you read this post.

1. The Croatian Coast
At the top of our list is the Croatian coast. There are a number of wonderful campgrounds offering unique experiences on the Adriatic Sea. Travellers the world over visit this part of the world to enjoy the Adriatic's eastern shores. In fact, this is a favourite destination for holiday yacht charters. There is just a lot going on here.

As for motorhome holidays in Croatia, a coastal campground can be a home base for exploring beautiful inland areas. If you prefer to spend most of your time on the water, you will not be disappointed. Few locations along the Adriatic are as beautiful and scenic as Croatia.

2. Italy's Dolomite Mountains
The Dolomites are part of the Eastern Alps range contained mostly in northern Italy. This may not be the perfect motorhome destination in the dead of winter, but it is fantastic during the summer months. Snow-capped peaks and lush green valleys await. Some of the best views in northern Italy are here.

A holiday in the Dolomites can include a range of outdoor activities including trekking, mountain climbing, and sightseeing. The only downside is the tricky mountain drive. Plenty of hairpin turns keep you on your toes, that's for sure.

3. Spain's Embalse de la Jarosa Lake
The sheer number of campgrounds along the Spanish coast is almost overwhelming. There are far fewer inland. But one in particular, at Embalse de la Jarosa Lake, is truly spectacular. What makes this particular site worthwhile is its out-of-the-way character. There is a lot of wide-open space here, rather than closely parked motorhomes. And of course, the view is outstanding.

This campground is close enough to Madrid to function as a home base for exploring the city. But its tranquil location makes it just as attractive for quiet days at the lakeside, taking in the warm sun and blue skies.

4. Coastal Portugal
If you are planning to visit Spain and want to make a couple of weeks out of it, consider at least a week in coastal Portugal. There are plenty of great campgrounds to choose from along the coast. They all offer direct access to the Atlantic and all the beauty that comes with it. You will also enjoy Portugal's quaint towns and rich history. Just be aware that the cost of travel might be a bit more expensive here.

5. Central France
Though we don't know for sure, France may have the largest concentration of campgrounds and motorhome parks in all of mainland Europe. If you are looking for something not on the Mediterranean coast and a considerable distance from Paris, consider one of dozens of campgrounds in central France. Near towns like Lugy and Troyes, these campgrounds offer a beautiful inland setting accentuated by rolling plains and quaint countryside homes.

Another benefit of a central France motorhome holiday is being able to visit a slew of old-world French towns. When people think of France, they think of Paris. But the old towns are where you experience everyday French life away from the hustle and bustle of the capital.

6. South-West Germany
Germany's geographic diversity makes it a great holiday destination for motorhome owners. The south-west portion, near the border of Switzerland, is home to some of the most beautiful forests in all of mainland Europe. Campgrounds throughout the region offer plenty of opportunities to explore Germany's slice of the great outdoors. There really is no other place like it on Earth.

7. North-Central Germany
No holiday to Germany would be complete without visiting the north-central part of the country. Here is where you'll find cities like Cologne and Frankfurt. Of course, you will want to choose a countryside campground for the best views. In this part of Germany, the terrain is a bit more consistent, yet the views are still stunning. You will also be closer to more urban activities if that sort of thing interests you.

8. Anywhere Along the Mediterranean
As we wrap up this part of the post, anywhere along the Mediterranean coast is ideal for a motorhome holiday. From Spain to southern Italy, there are hundreds of campground destinations to choose from. Every single one of them offers fantastic views and a full range of water-based activities. And with pleasant weather year-round, you can go any time.

Of course, you will want to take care when travelling throughout mainland Europe. The farther you are from home, the greater the chances of running into trouble. The remainder of this guide will discuss some of the things you should take with you wherever you go abroad.

Travelling in Mainland Europe
The first thing we recommend is deciding where it is you actually want to go. You can certainly find campgrounds with all of the modern amenities and full hook-ups. But there are also plenty of wilderness locations offering nothing more than a place to park. You have to be fully self-contained in such locations.

If there is any chance you might entertain wilderness camping, it is a good idea to have an auxiliary generator, spare leisure batteries, and a spare fuel tank or two. If you have any plans to travel at higher altitudes, motorhome skirting is a good idea as well. Skirting protects the underside of your motorhome from cold air and animals.

You will also need adapters for your tanks. This is because different European countries utilise different connections for the gas. It also pays to know the regulations wherever you plan to travel. You may not be able to easily fill your tanks in some countries.

The following is a list of things to make your European holiday safer and more enjoyable:


Legal Documents – You will absolutely need to have your driving licence with you. It will probably be necessary to acquire an international driving permit (especially so after Brexit), so check the GOV.UK website for details. You will also need to carry proof of motorhome insurance and, if you are towing a trailer, proof of EU registration.


Cleaning Supplies – Cleaning supplies are cheaper when you buy them at home and take them with you. Be sure to take cleaning solutions, a broom and dustpan, and perhaps a small vacuum. A bucket for disposing of wastewater, along with a good supply of rubbish bags, are essential.


Hand Tools – You can always count on doing some minor repairs while on the road. Take a good selection of hand tools including pliers, screwdrivers, spanners, and a socket set.


Straps and Tent Pegs – Take awning straps and tent pegs to keep your awning secure regardless of the weather. You will need them for most coastal locations, as the wind rarely stops blowing.


Hoses and Fittings – Should you run into plumbing problems while on the road, you might not be able to find the right parts for repairs. We recommend taking a selection of hoses and fittings to fix your most vulnerable pieces of plumbing.


Fuses and Bulbs – Finding spare fuses and bulbs might be tricky in some European locations. Again, these are things you are better off buying at home. Doing so guarantees you'll have exactly what you need for your particular motorhome.

In closing, we wanted to offer a bit of advice about travelling during the coronavirus crisis. There are different restrictions throughout Europe, just as there are in the UK. It is best to check what those restrictions might be before you leave home.

You will probably be required to practice social distancing no matter where you go. Mask requirements will vary from one location to the next. Just be cognisant of local regulations and respectful of the other travellers you encounter.

Remember, the European mainland is a treasure trove of destinations for motorhome owners. If you are looking for something new and different, take your motorhome to the continent and take a look. There is plenty to discover on your travels.

If you'd like to stick closer to home in the UK take a read of the 12 Most Beautiful Places to Take Your Motorhome In The UK.