Types Of Motorhome Layouts
17th June 2020
Types of Motorhome Layouts
The internal layout of your motorhome or campervan will not be the first thing you decide on – before you do, there's size, weight and, of course, type to consider – but it will certainly be one of the most important choices you make before deciding on the vehicle that's right for you. When it comes to your vehicle's internal layout, there is much to consider but, with that, almost endless possibilities!
‍
The type of vehicle or base chassis that you go for will naturally influence what layout you ultimately have (weight and space playing an important role here) but with any given space, there's always a great many layouts that can be accommodated.  Two of the biggest considerations will involve where you would like to sleep and what type of atmosphere you wish to create within your motorhome. For example, is fixing up beds every night from convertible sofas something you are happy with? Or would you rather emphasise the "home" part of "motorhome" and create a permanent living space? For some, the decades-old traditional layout of the front cabin and rear lounge is too beloved to let go of. Each to their own.
‍
When designing the interior of your vehicle, the bed or sleeping quarters will certainly take precedence. Indeed, many whole layouts are based around the sleeping conditions, with, for example, "French bed" and "bunk bed" denoting two quite different interior layouts. With that in mind then, read on for our – by no means exhaustive – run down of common motorhome and campervan layouts, complete with advantages and disadvantages.


French Bed
A French bed is a type of fixed bed, meaning you will not be making it up every evening (which could very well be a deal breaker for some people). The mark of this layout is a fixed double bed set lengthways against a side of the motorhome. For this reason, it is a layout that most suits low-profile motorhomes with the requisite space. 

Space is definitely something to consider if you are interested in a French bed layout. The bed, for one thing, will in the majority of cases share the very rear of the vehicle with the washroom. Very often, there's only between 2 and 3 ft space for the washroom. This problem however is often improved with an innovative bed design that tapers towards the end, allowing for more space. So look out for that. 

This layout is suitable for, among several others, our Fiat and Peugeot Elddis Evolution motorhomes as well as the Fiat Swift Champagne.



Island Bed
The French bed will very often be the first choice of those fixed on a fixed bed, as it were, who are willing to tolerate the access issues. For those not keen on the French bed layout, the island bed and its suggested layout is possibly the way to go. An island bed might be better termed a "peninsula bed" because it can be pushed against a wall, but there will always be space either side of it.
‍
An island bed will typically be around 7m long (although they do come smaller) and, as you might expect, become something of a focal point for the space. The underbed storage that becomes available with an island bed can be exceptionally useful. Island beds very often come with an aisle crossing door for privacy and ensuite bathroom facilities that occupants can reach without clambering over one another. You will find this layout is suitable for big A-classes such as our Fiat Rapido motorhomes.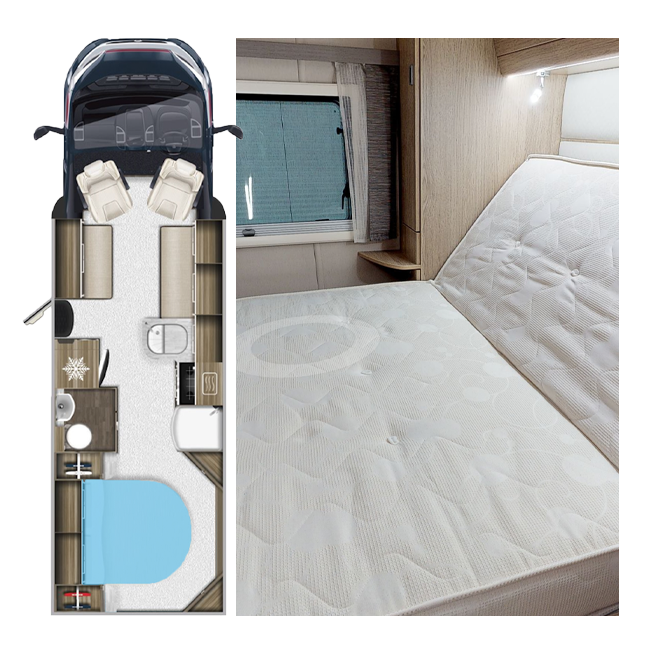 Bunk Bed
This is one for the families. Traditionally, they represented an entry-level sleeping solution and, as such, imply a layout suited to coach-built models, such as our Fiat Autotrail Tracker. That said, bunk bed layouts are increasingly being used in larger low-profile motorhomes as well.
‍
Naturally, bunk beds provide a space-saving sleeping area for children and those who don't need a great deal of room. The bunk bed layout is therefore a natural choice for families as they provide that extra space for family activities – or just a lot of running around!

Of course, bunk bed layouts are not only for children. If you want a layout that economises on space and gives a sleeping space for multiple travellers, this is the layout for you.



Front Lounge
Technically speaking, most of the motorhome layouts you'll come across include a "front lounge", so for accuracy's sake, we are here referring to those layouts typified by no fixed bed and a "lounge" area which is centred around the front of the motorhome. Often, front lounge motorhomes will have swivelling front seats that turn on from the driver cabin to a table or some other interior focal point just behind.
‍
Without a fixed bed, the sleeping area will have to be assembled, lowered, or pulled out when needed. Naturally, there is a whole world of technological possibilities here. Some motorhomes will have beds that descend electrically as well as manually and, with larger motorhomes such as big A-class models, there is more than one bed, allowing you to hit the sack at a different time to your partner. Most front lounge layout motorhomes will include transverse beds, but a few have lengthways beds which, naturally, have the room to be a bit bigger.
‍
Moving towards the back of a front lounge motorhome you will come to, after usually some generous space, the washroom and kitchen facilities. Essentially, front lounge models prioritise space towards the front of the vehicle.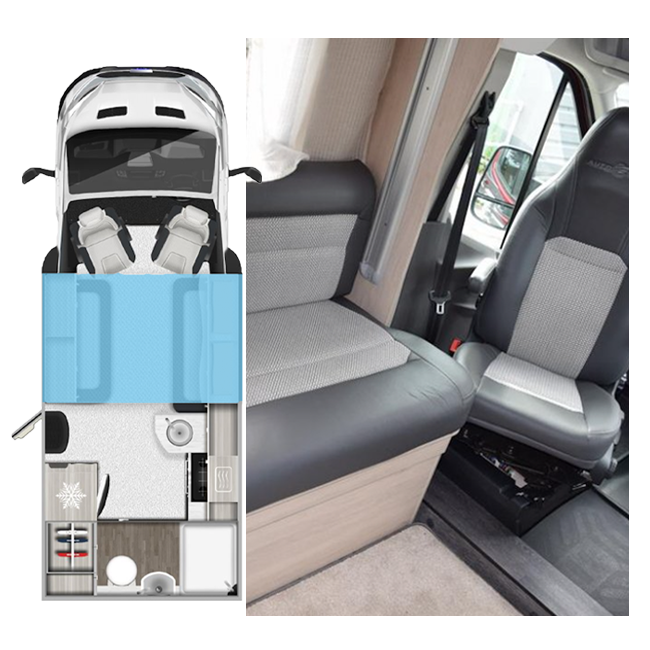 Rear Lounge
It is often remarked that the rear lounge layout is for those seasoned caravanners who would appreciate such a familiar design. A rear lounge layout provides exactly what it says - a lounge at the rear of the motorhome, which often folds out into a large bed.  The advantages of this layout are that the rear of the motorhome often has panoramic views with 3 large windows, and it's not a through-fare, as the entrance and exit are up the other end.
‍
Again, there is no fixed bed here and, just like the front lounge layout, these beds can be folded away or elevated to storage in a variety of innovative ways. Our Fiat Swift motorhomes and Autotrail motorhomes are examples of the rear lounge layout, typically found in coach-built models.